Dr. P's Miso Soup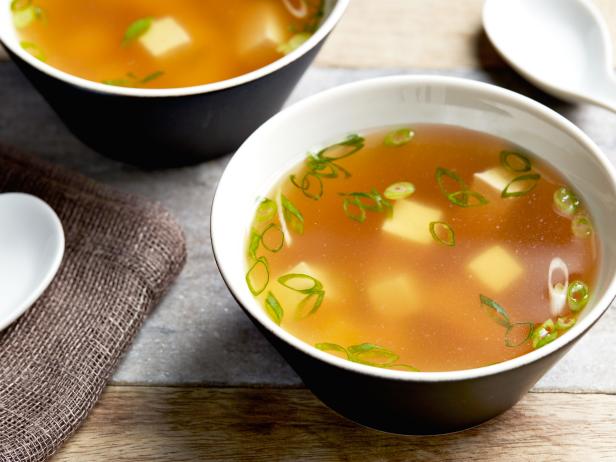 Miso itself dates back to 4 BC in China.  Buddhist Monks brought it to Japan in the 7th century and it was the Japanese who used miso to create miso soup.  It is  the most highly respected food in Japan. There is an old expression that states "when things are not right, a bowl of miso soup will make them right". Miso is a naturally fermented food and as such is amazingly beneficial to the digestive system.
The Basic Vegetables:
(1) Medium Onion- sliced
(2) Carrots-sliced
Daikon Radish-sliced (These are very long white radishes and you may want to use just half)
**In season you can add:
a) Butternut Squash for autumn and winter (not the whole squash-just some of it)
b) Burdock Root for autumn and winter (long thin woodsy root-excellent for kidneys)
c) Yellow Summer Squash for spring and summer
d) Tofu cut into cubes for any season
**Miso soup is supposed to be light, colorful and not heavily laden with vegetables
The Process: This miraculous healing soup takes just 30 minutes to prepare.  I deliberately included as many steps as possible to make it easier to understand.
Step 1: 4-6 hours or even overnight soak a piece of Kombu Seaweed In a bowl of water. Doing so allows the minerals in the Kombu to migrate into the water. This is called "Dashi" and this water will be used for the soup.
Step 2: Wipe down the bottom of a soup pot with a little sesame or olive oil. If you do not want to use oil, just use water.
Step 3: Add the onion, then wait a few minutes and add the carrots and then last the daikon radish. Minimally sauté' vegetables for 3-5 minutes at most.
Step 4: Remove 1/2 cup of the "Dashi" water and place in a separate small bowl. Add the remaining water along with the Kombu into the pot of lightly sautéed vegetables. If using Tofu, add at this time.
Step 5: Bring to a boil, reduce heat and simmer for 20-30 minutes
Step 6: Using a scissor, cut a bunch of Wakame seaweed into the bowl of "dashi" water you set aside.
Step 7: After simmering for 20-30 minutes add the soaked Wakame to the soup
Step 8: Remove a cup or two of the soup broth and place into a bowl
Step 9: Add 1-2 heaping tablespoons of miso (depending on taste) to the broth and mix until dissolved.
Step 10: Add the miso broth back into the soup and mix well
Step 11: Upon serving, always garnish the soup with preferably green onions (scallions) or parsley. Doing so makes the soup "complete"
IMPORTANT:
a) Never boil the miso as boiling destroys the enzymes.
b) Keep the swollen piece of Kombu in the soup but do not eat it.
Note: There are numerous varieties of miso. I recommend Miso from South River Miso Co.. It is organic; of the highest quality: numerous varieties; and packaged in glass jars.
Which ones to use: I keep at least different miso' on hand at any given time? 
Soy/Hatcho, Barley, and Brown Rice Miso are the so called "heavy hitters" or the more healing type of miso.
3 years Soy/Hatcho Miso-  for late autumn and winter use especially in cold climates.
3 year Barley Miso- for any time of year (but especially for autumn and winter)
3 year Brown Rice Miso- for any time of year (but especially for autumn and winter)
Dandelion Leek Miso- for any time of year (especially for late winter and spring)
Aduki Bean and Millet Miso – for any time of year
White and  Chickpea Miso- for spring and summer (too lightweight for autumn and winter)–these are excellent for salad dressings with additional tahini added
"For your health, you should take Miso Soup"