Dr. P's Magic Green Drink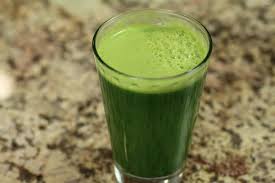 This drink can be made in a good quality juicer or a Vita Mix  Blender
This is a powerful green drink that keeps all of the fiber intact. I make enough for 3 days and place each days drink in a quart canning jar. No matter what anybody may say, the drink is as fresh and tasty on day 3 as it is on day one.
Green drinks are associated with the Liver. Keeping the liver healthy keeps you healthy – end of story. Green drinks are especially beneficial during the spring and summer months.
I use only organic vegetables. However if organic is not available use what is. Of all vegetables, celery is the only vegetable that must be organic. Be creative, play with the drink, change it around -make it your own.
Two stalks of celery
A handful of parsley
A handful of cilantro
A handful of Spinach
3-4 Collard Green leaves (stem and all)
3-4 Kale Green Leaves (stem and all)
1-2 Apples (for a touch of sweetness)
1-2 Beets (small and optional)
1 Cucumber
A small piece of Ginger if you feel like a slight "zing"
Additionally you can add:
Cabbage Leaves -I have another drink for digestion using only cabbage
Turnip Greens
Dandelion Greens
Mustard Greens
Keeping in mind these are bitter and may require a definite addition of an apple or beet
What I do not use in this drink are carrots, any type of radishes, broccoli, cauliflower, Brussels sprouts,  burdock root, turnip root, Swiss Chard or any type of lettuce.
Make a full container in the Vita Mix and add some water to the mix to dilute just enough to drink.
Put in the jars and have one per day for lunch! Needless to say, refrigerate!